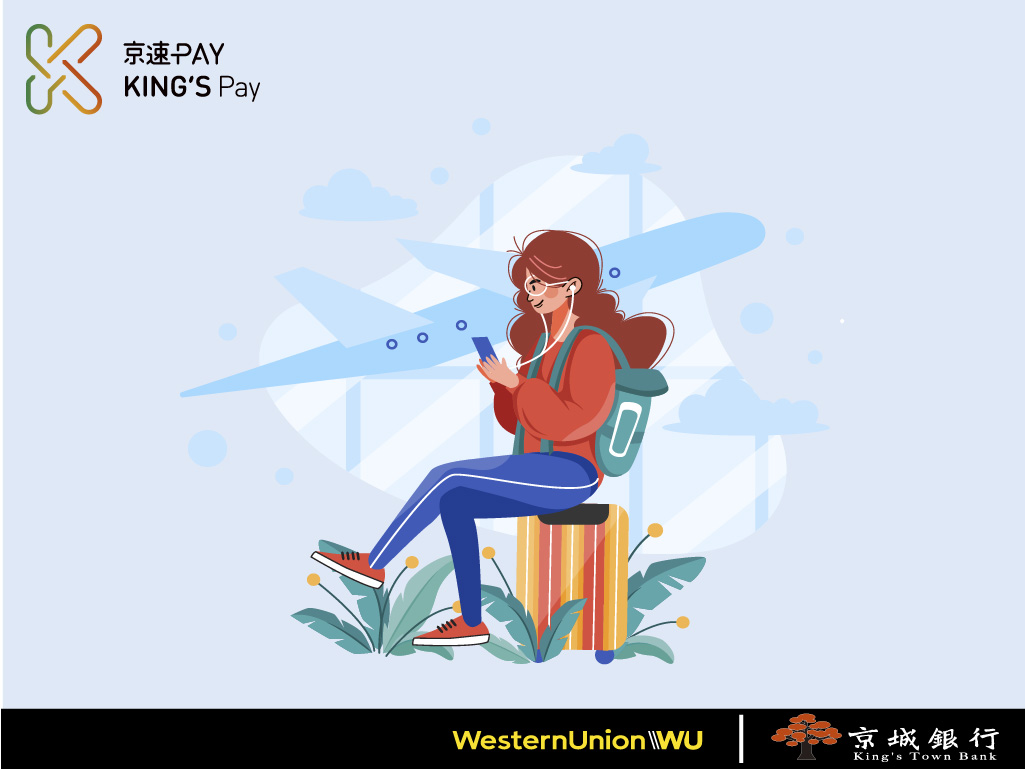 This is an article about sending money out of Taiwan using a full online platform – King's Pay.
A lot of emigrants/foreigners work hard in Taiwan and send most part of their salary home to support family living expenses.
As a result, what is the most convenient and cost effective way to send money back home is worth exploring.
Remitters usually encounter the following problems:
(1) The bank's opening hours are inconvenient for them.
(2) The process of remittance is too complicated.
(3) The handling fee is too high or not transparent enough.
(4) The language communication is hard to understand.
We are going to introduce the best choice for you to send money from Taiwan. King's Payis launched in 2020 by King's Town Bank and Western Union to provide customers sending money ONLINE 24/7 freely from banking hours and locations. The service is available in English, Vietnamese and Chinese.
King's Pay provides competitive fees in comparison to Swift and usual Western Union products, the service is only available online.
Another unique thing about King's Pay is that it inherits the benefits of Western Union services. There are two ways to receive money – "Cash Pickup" or "Bank Account". Cash Pickup means you could send money to the receiver even though you just know his/her name (without having to know the bank account details). When you finished the transfer, the sender would get a 10 digits money transfer control number (MTCN). The receiver could then go to any WU locations to pick up the money as soon as the sender provides him/her the MTCN.
The "Bank Account" service is available in 80 countries which means the money could directly transfer to the receiver's bank account, this is why we position King's Pay as a good alternative to Swift. The sender would be required to fill in the receiver's account information while updating the receivers' information if he/she would like to select the "Bank Account" service.
All procedures including opening account, making transfer, tracking your transaction are done ONLINE without the need to visit the bank branch. Furthermore, the service of modifying receiver (only available under Cash Pickup service) and applying refund are also available ONLINE.
You may be interested in the fee charges and sending limits. All fees are paid by the sender. Receiving money is free of charge unless the receiver chooses to receive money in a different currency or to a device or an account which was not part of the send transaction.
Fee Charges
| | |
| --- | --- |
| Amount(USD) | Fee(USD) |
| 10.00 – 1,000 | 10 |
| 1,000.01 – 2,000 | 14 |
Sending Limits: Amounts shown in the table are all equivalent to TWD.
| | | |
| --- | --- | --- |
| Receiving Method | Cash Pickup | Bank Account |
| Per Transaction | 30,000 TWD | 50,000 TWD |
| Daily Limit | 50,000 TWD | 100,000 TWD |
| Monthly Limit | 100,000 TWD | 200,000 TWD |
How to register?
To register, you must be at least 20 years old or above and hold the Taiwan National ID Cards. Here is the checklist for opening King's Pay:
Two types of Taiwan ID Card – a Taiwan ID card plus a Taiwan second ID card (only ID issued by Taiwan government is accepted such as health insurance card and driving license)
A bank account in Taiwan – this can be any bank accounts in Taiwan, excluding account from Chunghwa Post.
Email & Mobile – you are required to verify the provided email and mobile number.
Click here to register: Register King's Pay online
How to use King's Pay?
Step 1 – Perform the 1st Time Set-up
Add My Fund-in Account: this can be any of your NTD accounts in Taiwan that can be verified through FISC in Taiwan.
2. Add My Receivers: receiver's name and country is required. As mentioned above, there are two receive methods. If you want to choose "Bank Account", you have to fill in the receiver's account information first (if the chosen country is available for the bank account service).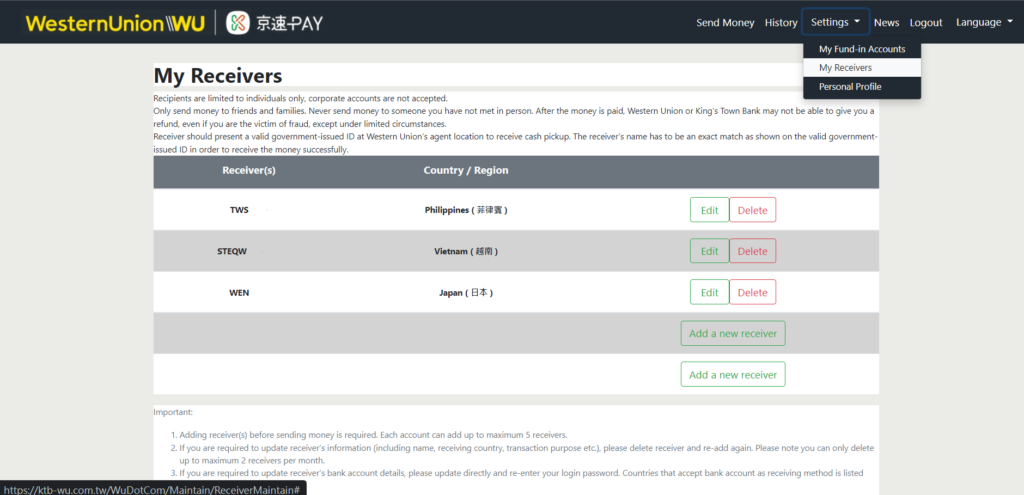 Step 2 – Start to Send Money Online
After all the settings have been completed, you can start sending money online.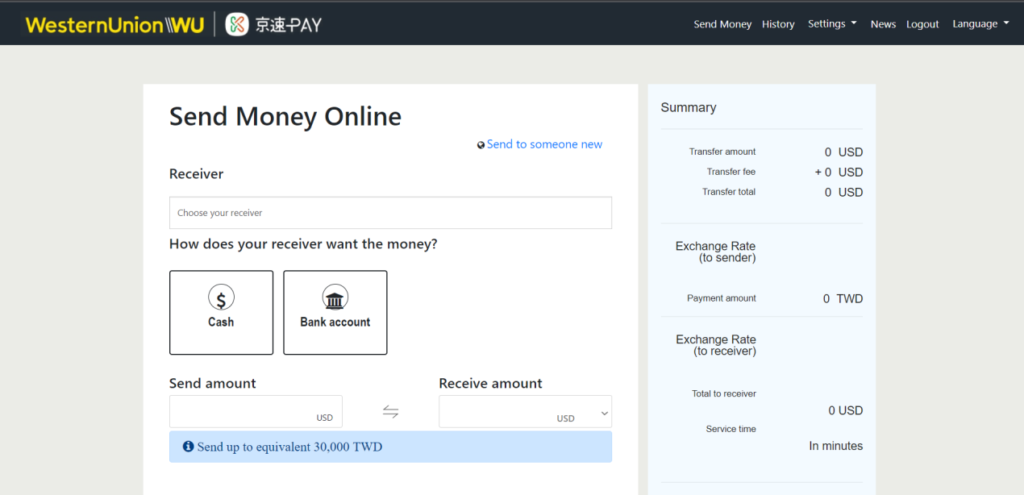 Step 3 – How to pay to complete the transaction?
Once the transaction is completed onKing's Pay, follow the payment information message to pay for your transaction online. King's Pay is paid online with your Fund-in Account. For example, if your registered Fund-in Account (please refer to step 1) is a bank account with King's Town Bank. You are required to log into your online banking at King's Town Bank and make a bank transfer into the payment account which is provided upon the last step of your send money journey.
Step 4 – How do receivers pick up the money after you paid the transaction?
If you chose "Cash Pickup" as the receiving method. Please provide the MTCN to your receiver so that he/she can pick up the money with relevant ID proof and the MTCN at any WU locations nearby. To check your MTCN, please go to the History section and select completed for transaction that has been paid and completed.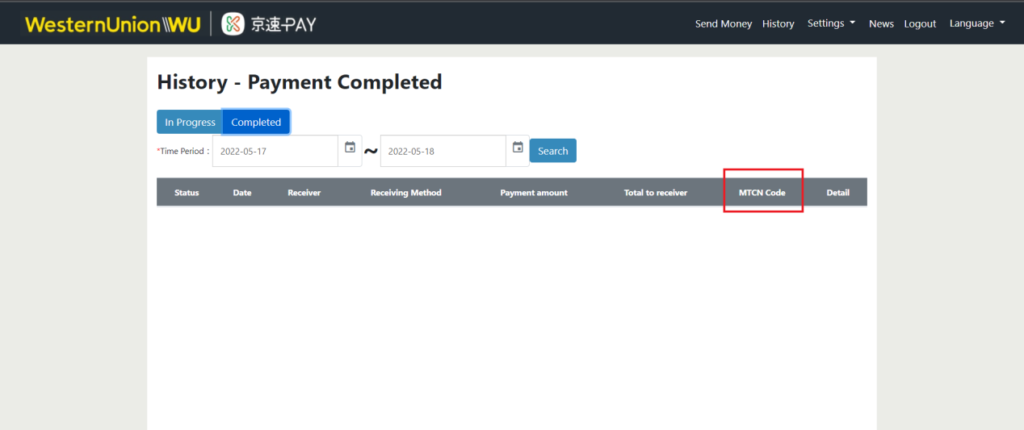 2. If you chose "Bank Account" when you sent the money.
The money will be remitted directly to the receiver's bank account.
If you have any further problems, please reach us at (06)213-0002 during office hours or join our FB and Line to receive latest promotions and information about King's Pay. You can also contact our online customer service team via FB, Line or email us at [email protected].